Main content starts here, tab to start navigating
Seven Regions of Mexican Cuisine
Slide 1 of 3
Slide 2 of 3
Slide 3 of 3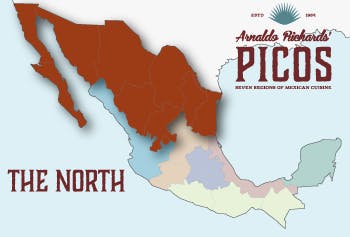 The North
Baja, Sonora, Chihuahua, Coahuila, Durango, Zacatecas, Aguascalientes, Nuevo Leon and Tamaulipas
The vast region that makes up "El Norte" stretches 2000 miles from the rugged Pacific coast of Baja California to the lowlands of the Gulf of Mexico, and its cuisine reflects the hearty and unpretentious nature of ranch culture. The region's distinctive cooking technique is expertly grilled beef, and the most popular dishes include machaca, arrachera (Fajitas) and cabrito (baby goat). Ranch culture has also prompted cheese production, and El Norte produces the widest varieties of cheese in Mexico, including queso fresco (fresh farmer's cheese), ranchero (similar to Monterey Jack), cuajada (a mildly sweet, creamy curd of fresh milk), requesón (similar to ricotta), Chihuahua's creamy semi-soft queso menonita and several varieties of asadero (smoked cheese). The area also has at least forty different types of flour tortillas, allowing for the creation of burritos in Sonora, which eventually gained popularity in the Southwest United States. The most singular of El Norte's several sub-regions is Baja California – Mexico's oldest continuously producing wine district – giving it the reputation for quality varietals.cc
THE NORTH PACIFIC COAST
Sinaloa, Nayarit, Jalisco and Colima
Stretching along Mexico's long Pacific shoreline and supplying much of the country's staple grains, fruits and vegetables in addition to the freshest and widest selection of local cheeses and chiles, the North Pacific Coast cuisine is noted for dishes such as chilorio, birria, pozole, chilayo, menudo and pork dishes. Guadalajara is the region's cultural and gastronomic center, and the area's most famous dish is birria, a stew of beef, mutton or pork with chili peppers and spices. Near Guadalajara is the town of Tonalá, known for its pozole. Jalisco is known worldwide for tequila with the liquor produced only in certain areas allowed to use the name. The Pacific coast is a spectacular succession of coconut plantations, sandy coves and rocky, surf-battered headlands, and seafood dominates the region's cuisine and is generally cooked with European spices along with chili peppers and served with a spicy salsa. Favored fish varieties include marlin, sailfish, swordfish, black sea bass, snapper, porgy, amberjack, tuna, shrimp and octopus.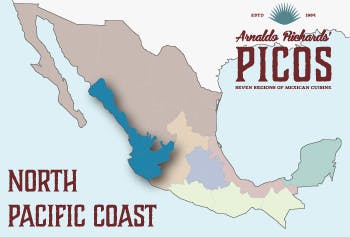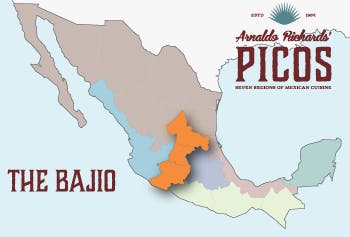 THE BAJIO
Michoacán, Guanajuato, San Luis Potosi and Queretaro
An immense plateau bordered by rugged mountains, The Bajio region resembles the central Spanish plains, homeland of the first colonist, whose main contributions to el Bajio cuisine are rice, pork and spices. One of the best-known dishes from the state is morisquesta – a sausage and rice dish – closely followed by carnitas, or deep-fried pork. The latter can be found in many parts of Mexico, often claimed to be authentically Michoacán. The region is renowned for its sweet desserts such as cajeta (goat's milk caramel), chongos (curds in syrup), arroz con leche (rice pudding) and bunuelos (fritters). The town of Cotija has a cheese named after it. The local alcoholic beverage is charanda, which is made with fermented corn.
THE SOUTH PACIFIC COAST
Guerrero, Oaxaca and Chiapas
The highlands of Oaxaca, Guerrero and Chiapas are a succession of deep valleys separated from one another by cool, craggy peaks and have remained the most purely Indian region, boasting the most indigenous of Mexico's provincial cuisines.
Oaxaca's indigenous cooking includes staples such as chicken and pork and an adaptation of mozzarella known now as Oaxaca cheese. Oaxacan cuisine is known for seven mole varieties including Negro (black), Amarillo (yellow), Coloradito (little red), Mancha Manteles (table cloth stainer), Chichilo (smoky stew), Rojo (red), and Verde (green). Regional chile peppers along with herbs such as hoja santa give the food its unique taste. Chocolate is another major component and frequently hand ground and combined with almonds, cinnamon and other ingredients and consumed as a beverage.
In Chiapas, chile usually accompanies a meal as a condiment, rather than being cooked into the dish. Chiapas chiles – the best known being the small chile de siete caldos, are among Mexico's most fiery. Corn is the staple food in the region, and the "blandas" tortillas are also used to make empanadas, tamales and more. Black beans are favored, often served in soup and as a sauce for enfrijoladas.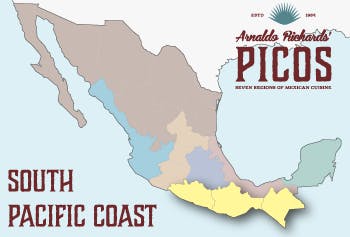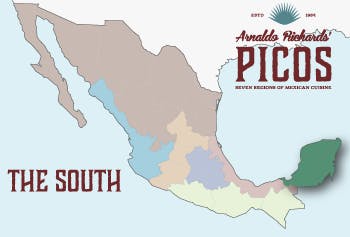 THE SOUTH
Campeche, Yucatan & Quintana Roo
The food of the Yucatán peninsula is distinct from the rest of the country and is based on Mayan food with influences from Cuba and other Caribbean islands, Europe, Asia and Middle Eastern cultures. Corn is the basic staple and used in both solid and liquid foods.
One of the main spices, achiote (annatto seed) gives food a reddish color and a slightly peppery smell with a hint of nutmeg. Recados are seasoning pastes, based on achiote, and used on chicken and pork dishes such as conchinita pibil, the area's best-known dish. Pibil refers to the cooking method (from the mayan word pib, meaning "buried") in which foods and various meats are wrapped, generally in banana leaves, and cooked in a pit oven. Habaneros are another distinctive ingredient, but they are generally served as (or part of) condiments on the side rather than integrated into the dishes.
One prominent feature of Yucatán cooking is tropical fruits such as tamarind, plums, mamey, avocados and bitter oranges, often used in the region's distinctive salsas. Honey is used to sweeten foods and to make regional drinks. The coastal areas feature fish dishes like Mero, conch fillet, coconut flavored shrimp and lagoon snails.
THE GULF
Tabasco & Veracruz
The balmy, easy-going world of the states that border the Gulf of Mexico is culturally – as well as geographically – an arm of the Caribbean and is the essence of the region's cuisine, a mix of indigenous, Afro-Cuban and Spanish that shares the Creole culture of Colonial Caribbean port towns like Havana, San Juan, Cartagena and even New Orleans. The indigenous contribution is in the use of corn as well as vanilla (native to the state), and herbs called acuyo and hoja santa. It is also supplemented by a wide variety of tropical and citrus fruits such as papaya, mamey and zapote. The Europeans introduced herbs to the region such as parsley, thyme, marjoram, bay laurel and cilantro that characterize much of the state's cooking. Huachinango a la veracruzana, a local popular dish, is red snapper prepared with a light tomato sauce seasoned with bay leaves, onions, capers, olives and sweet yellow peppers.
The Afro-Cuban influence also includes peanuts and can be tasted in dishes such as pollo encacahuatado or chicken in peanut sauce. Other African ingredients often found in the state include plantains, yucca and sweet potatoes. As it borders the Gulf coast, seafood figures prominently in most of the state.
Tabasco, a state that embraces vast deltas and estuaries, offers much more than the famous hot sauce that bares its name. The variety of Tabasco seafood is unmatched, with local waters teeming with several distinctive species of crab and crayfish.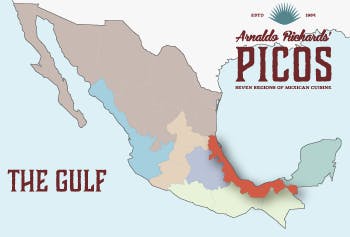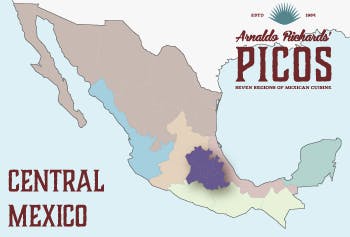 CENTRAL MEXICO
Mexico, Puebla, Morelos, Tlaxcala, Hidalgo and Distrito Federal (Federal District / Mexico City)
Mexico City cooking is characterized by influences from other regions of Mexico as well as a number of foreign countries. Many of the ingredients used in this area's cooking, such as tropical fruits, are not grown here. Street cuisine is very popular, with taco stands, torta (sandwich) shops, and lunch counters on every street. Popular foods in the city include barbacoa (a specialty of the central highlands), birria (from western Mexico), cabrito (from the north), carnitas (originally from Michoacán), moles (from Puebla and central Mexico), tacos with many different fillings and large sub-like sandwiches called tortas. There are eateries that specialize in pre-Hispanic food, including dishes with insects. This is also the area where most of Mexico's haute cuisine can be found.